About Us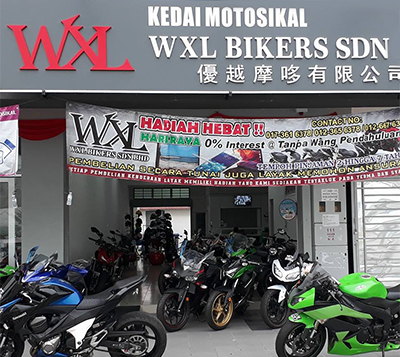 WXL Bikers Sdn Bhd is a superbike and motorcycle supplier company. It was established in 1981 with the aim to provide the best superbike and motorcycle for our value customers. Our shop is located in Kuala Klawang and Seremban, Negeri Sembilan (NS), Malaysia.

WXL Bikers is the largest superbike and motorcycle marketplace in Malaysia.

We carry a wide selection of motorcycle and superbike brands such as Kawasaki, Yamaha, Keeway, Naza, KYM, BMW, Modenaas, and more.
WXL Bikers
is your one-stop motorbike solutions company. Besides than retailing motorcycle, we also offer great after sales services such as motorbike maintenance service and supply all kinds of motor accessories.
WXL Bikers
offers great deals for any bikes that you are looking for. If you have any questions or need more details, our customer service team are ready to serve you.